The culinary capital of the United States
In San Francisco, around 70 traditional dishes with the best quality in the world accompanied by the best French wines.

Later, many of the restaurants in the city began to practice a regional cuisine, fresh local produce and organic vegetables. In these years it is when the "culinary revolution" in the country, in order to unify the peasants and farmers in the area with large restaurant chains took place.

Currently, San Francisco stands out for its specialty foods, surrounded by a wonderful natural environment and this increased by a great diversity of races and cultures living in the city: Mexican, Chinese, Russians, South Americans, Koreans, etc.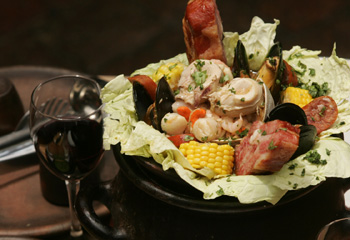 Typical food
It is curious relationship of the city of San Francisco to gastronomy . The bay and surrounding area have developed a type of very personal cuisine , where you can taste specialties not found anywhere else in North America. A good example , as simple as special , is the "sourdough bread". It is a very different from what we are used sourdough , but certainly worth trying.

Later came the boom of healthy cooking, slow food and organic and ecological cuisine , which has developed a cuisine based on the quality and healthy foods . The weather of California makes markets , restaurants and tables of households do not miss the best vegetables and fruits. Fish and seafood are also employed in the kitchen of the state, and are characterized by their freshness and quality. The salads are ubiquitous, and often carry exotic ingredients like avocado , tropical fruits, citrus and peanut sauce. Spices are the other common part of the California cuisine, and a strong influence of Mexican cuisine is also perceived .